Okay, so I am sure that you have seen posts about how to make a blog button. Me too, but I still didn't have one. I sat last night and decided that I would work on a button for my Etsy shop. With all of the information out there, this had to be easy enough, Right? Wrong! I worked on it and finally had to go to bed without a working button.
I followed the directions of Musing of a Housewife. It seemed easy, not so yet! I also read Blogging with Amy. Both I found doing a Google search. Still not appearing and working as I liked.
Then this is where I have to say that I love comments so much for my own posts as well as to direct me to new blogs. Yes, I don't have many followers yet! But I do read them all and follow up with an email and checking out their blog. Often I end up following also as we probably have similar interests, purposes, or inspiration.
Well, that happened here and a big THANK YOU to Melissa who recently commented on one of my blog posts. Here is her button that will lead you to her page:

You can also check out the link that inspired me to give my button another chance here.
So here is the button for my Etsy shop. Nothing fancy (yet), but it works. Click on it.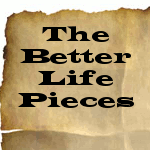 I am still just starting out, but having so much fun getting everything up, running, and linked together.